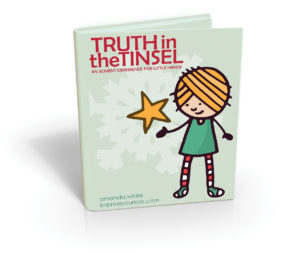 If your family practices the Christian faith and is looking for a
kid-friendly guided Advent resource
, try out
Truth in the Tinsel!
This is "an Advent experience for little hands," because it offers a faith-based activity and Bible reading each day to reinforce the reason for the season and lead children into a celebration of Christmas and Jesus' birth.
Spend December impressing God's Word on your kids' heart! You'll get 24 days of Scripture reading, ornament crafts, talking points, and extension activities. Plus fun printables and templates!
Truth in the Tinsel
is
only $7.99
as an ebook download — and now my readers can get 20% off just for being awesome!
Enter code HOBO for 20% off
at checkout!