Nov. 29 is still high-shopping weekend for those post-Thanksgiving sales! And I still don't know what the day is actually called. But here are some new or continuing best-of-the-best coupons for families from my affiliate links.
Sometimes you just need to click on the link to get the deal. Other times, you have to enter the included coupon code at checkout.
Amazon Toys, Games, Electronics, Books, DVDs, Clothing, and More
Limited-time deals in every category
on Amazon.com!
Even cooler, I just found out about this via
Daddy Forever
: Amazon is offering
$3 completely free in mp3 downloads
. Just log in to your Amazon account, then go to
this page
and enter the code MP34FREE in the box that pops up where it says "Enter Your Code." Then buy $3 or more in music downloads by
Nov. 30
. Individual downloads are typically $0.99, and albums are a savings over downloading each track separately. I chose to take $3 off the
Over the Rhine Christmas album Snow Angels
, and I am
very happy
with my purchase. Hooray for Christmas music season!
Signing Time DVDs
[Click over to Hobo Mama to read
my review of Signing Time & Baby Signing Time
.]
Spend $50 or More and Get Free Shipping on Your Order
. Nov. 29 only.
Bravado Nursing Bras
[via
Breastfeeding Moms Unite!
; not an affiliate link]
Bravado's Thanksgiving Weekend Sale is running until the end of the day on Monday. Please use coupon code TH09-175 for 25% off your entire online order at
www.bravadodesigns.com
, before shipping and taxes. Check
Breastfeeding Moms Unite!
for recommendations on which styles to try.
One Hot Mama
[Via
Roxanne Beckford Hoge
; not an affiliate link]
Sale at
www.onehotmama.com
. Till Dec 1, 20% off over $100 + Free Shipping. Mamas can get cute nursing and maternity duds from a real mom & pop business.
A Mother's Boutique
[Via
Mommy News & Views
; not an affiliate link]
Four-day sale at
A Mother's Boutique
. You'll find our best deals ever during our Black Friday through Cyber Monday Sale! The items on this special page are 40-60% off during this fantastic sale! Discount applies to in-stock inventory only - so shop now while they last! No coupon codes are required and these deals cannot be combined with any other offers.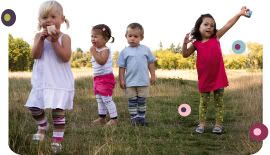 BabyLegs Baby Leg and Arm Warmers
[Click over to Hobo Mama to read
my joy over BabyLegs
and
Mikko's experience being a mama-volunteered model for BabyLegs
! I love these leg & arm warmers for making diaper changes and elimination communication easy. They also keep baby's ankles warm when you're babywearing, and they help extend the wearing period for clothes as you transition to seasons, by keeping arms warm under short sleeves or legs warm under shorts. To top it all off, they make unusual, inexpensive, and easily mailed baby gifts! Despite all my astonishing plugs of BabyLegs,
I am not an affiliate. Can you believe it??
— I am now!]
Visit BabyLegs for deals this weekend
:
Buy one, get one Free on select designs. Expires Nov. 30.
Use the coupon code BL25 to receive 25% off your order. Expires Nov. 30.
Support
Gavin Owens
and family. Gavin died recently at 3 years old, and his family is collecting BabyLegs to donate to the children's hospital in his memory. BabyLegs will match your donations, so buy a pair and send it to
the PO box on the Gavin Owens site
. I can't believe the graciousness and generosity of this grieving family. My heart goes out to them in their loss.
ISeeMe.com Personalized Children's Books
[I haven't tried these books personally, but they sound like great Christmas presents: a storybook that features your child's name.
Take a virtual tour to see what the books are like.
]
Free shipping on Personalized Children's books at ISeeMe.com! Use code FSW715, Offer Expires Dec. 10
. After-Thanksgiving Sale! $3 off any purchase of $29 or more. Use code FSR695. Expires 11:59 PM CST on Nov. 30.
Tiny Prints
Need adorably chic Christmas cards? Get
$10 off Orders $99+ (Code AFL10)
. Expires Dec. 30.
Tiny Prints Studio Basics Holiday Cards - Starting from just $.69 each!
Vista Print Holiday Photo Cards
Expires Nov. 30.
Miss Matched
30 % off all winter socks
. Use code WINTERSOCKS. Expires Nov. 29.
MemoryEscape.com Photo Books, Photo Cards, Photo Posters, and Photo Calendars
MemoryEscape.com is taking 30% off your next order!
Expires Nov. 30.
CSN Stores Toys and Games
Take an Extra 20% Off Slicer Sleds
. Expires Nov. 30
Happy Mothers Toys
Enter coupon code FREE49 and receive free shipping on any toy(s)
. Expires Nov. 30.
Bliss Living Baby Gifts, Diaper Bags, Mother's Jewelry, and Nursery Artwork
Free Shipping on all Orders Over $99
. Expires Dec. 1.
momAgenda Organizational Planners
20% off everything site-wide
. Expires Nov. 29.
Nimli Natural & Unusual Baby Items
25% off storewide
.
The Children's Wear Outlet
Free Shipping on all orders over $30.
Expires Dec. 3.
Hand Picked Pumpkin Baby Clothes and Accessories
Cozy contoured burp cloths for just $8 each
. Expires Nov. 29.
Sittercity.com Babysitter Search
[Go out somewhere fun for the holidays!]
Save 15% on a monthly or annual Sittercity membership with promotion code SAVE15.
Expires Jan. 15.
PhotoWorks Photo Books and Prints
Thanksgiving Special!
Get 20% Off Using
Coupon Code: "GIVETHANKS" Expires Dec. 1.
Crazy for Bargains Toddler Sleepwear
Curious George Sleeper for Boys for $9.99 at CrazyForBargains.com!
Normally $17.99. Expires Nov. 30.
Crocodile Slippers for Toddlers for $2.99 at CrazyForBargains.com!
Blowout sale. Expires Nov. 30.
Leopard Slippers for Toddlers for $2.99 at CrazyForBargains.com!
Blowout sale. Expires Nov. 30.
MyStrollers Toys, Car Seats, Strollers, and Games
Featured discounts
Baby Star Eco-Friendly Baby and Toddler Apparel and Accessories
20% discount with code: STAR20
Target Baby Clothing, Baby Gear, Maternity Clothing, Nursing Bras, and More
Check Out Target's
Black Friday Weekly Ad
Spend $50, Get Free Shipping on Select Baby Gear
at Target.com. Expires Dec. 19.
Diapers.com Diapers, Toys, and Baby Gear
Save up to 40% off Holiday Toys for Thanksgiving Weekend!
Expires Nov. 30.
Use code AFF10 for
$10 off your first order of Diapers
. (New buyers only; $49 minimum total order.)
Diapers.com Holiday Boutique
. Expires Dec. 20.
Baby Age Baby Gear and Car Seats
Black Friday and Cyber Monday offers
FREE Shipping on all orders $99.99 or more!
Use Coupon Code: GIFT99
'Tis the Season of Radio Flyer Sweepstakes.' Sign up to win at BabyAge.com!
Click Here!
Expires Nov. 30.
One Step Ahead Baby, Toddler, and Child Safety Products and Outdoor Gear
Free Shipping on $85+ with code FS85AFF
One Step Ahead - Black Friday/Cyber Monday - $15 off $75 with code 1575
— Expires Nov. 30
One Step Ahead - Black Friday/Cyber Monday - $25 off $100 with code 25100
— Expires Nov. 30
One Step Ahead - Black Friday/Cyber Monday - $50 off $175 with code 50175
— Expires Nov. 30
One Step Ahead - Black Friday/Cyber Monday - $75 off $250 with code 75250
— Expires Nov. 30
Kmart Toys, Clothes, Baby Gear, Electronics, Gifts, and More
$5 off $50
Use code: KMART5OFF50
FREE Shipping on ALL Toy Orders $49+
Threadsmith.com Personalized Embroidered Clothing
Black Friday Special - 40% off at Threadsmith.com. Enter Code BFR9.
Expires Nov. 30.
$10 off orders of $30 or more. Enter Code TENV9.
Expires Nov. 30.
Giggle Baby Clothing, Baby Gear, and Baby Gifts
eBay for Anything Baby
Don't forget that eBay is a great place to find everyday deals. Plus, they're running a
special week of promotions, with a daily promotion + free shipping
. Ends Dec. 8.
Check eBay for
mei tai baby carriers
or
belly bands
, for instance! (Yes, those were
two
links
I had saved.)
Affiliate disclosure: If you click on a link above and buy something within a short timeframe, the company gives a small percentage of the sale back to me.