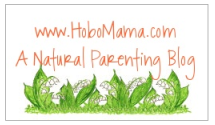 I have a post right now on Hobo Mama about Amy Adele's fabulous idea of calling cards for parents and children and, as far as I'm concerned, bloggers, as well!


When I was poking around Amy Adele for my review of children's stationery, I was seized by an idea. It wasn't, to be fair, my idea. It's Amy Adele's. But I love it, so I'm running with it.

…

Check out this action:


Click over
to
read the full post
and discover some ways you can use this calling card notion to your advantage as either a parent or a blogger.
Meanwhile, I wanted to be sure to blog right away with news of
two HUGE, limited-time discounts
you can take advantage of if you want to order your own cards from Amy Adele:
Calling cards are currently on sale for a whopping 50% off until this coming Sunday, June 27. That means they start at under $10 for 20, or just under $14 for 40, and the price gets cheaper and cheaper per item the higher the quantity. Order fast to take advantage of this incredible deal! I usually see 15% or 10% deals at Amy Adele — a 50% off is a whopper of a savings!
Typing in hobomama gets you 15% off your order. (I honestly don't know if the discounts combine or not, but you can try. ETA: They don't combine, but you can use this code if you're buying something else that's regular priced. Also, shipping is free over $50, which I forgot to mention!)
I was really truly pleased with the
quality and high adorableness
of the Amy Adele thank-you cards I received, so I know you'll appreciate the look and feel of the calling cards, as well as
Amy Adele's commitment to being eco-friendly
as a company.
Amy Adele has a whole section of calling cards categorized as
"Distinct Designs"
that is a selection of more adult-style drawings, such as a house, a palm tree, or simple floral accents, which would be perfect for more of a
business-casual look
or to use for gift tags, to announce a move, or to advertise a business such as an Etsy shop.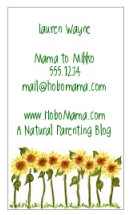 Check out
Amy Adele's ideas
or come up with your own, and
enjoy
!
Disclosure: Amy Adele links are affiliate links.
I did not receive any calling cards from the company
(and images with my URL are from the site's preview function),
but I thought it was an awesome idea when I was poking around
the site for my thank-you notes review and wanted to share it with you.
See my full disclosure policy here.